Pacific Summary. 15 September 2016 - 16 September 2016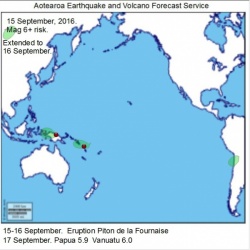 Click to Enlarge

Quake activity may increase.
Magnitude 6+ risk areas are Eastern Solomon Islands, Santa Cruz Islands, West Papua, Lake Baykal, South of Titicaca, Hindu Kush.
The forecast period is likely to be extended and for quakes to build up.

Update. 15 September 2230NZST.
The forecast period is extended to 16 September.
Pacific quakes were below Mag 6 today.
The eruption of Piton de la Fournaise continues.
The rapidly rising and falling lava lake at Kilauea is rising today and just 10 meters below the rim.
Volcano information is posted on Facebook/Roary Arbon.
Quake and volcano driving conditions are present but building slowly.
Quakes may be moderate 16 September but increase on 17-18 September. An update will be posted.

Update. 16 September 1100NZST.
The period seems to be going volcanic.
Piton de la fournaise is apparently still erupting.
The lava lake at Kilauea is dropping again.
Minor eruptions or increased activity at several volcanoes. Ubinas, Yasur, Turrialba, Suwanose-jima, Kliuchevskoi.
Quakes are under Mag 6.
Solar driving conditions are weak at the moment but may pick up again late today or 17 September.

Summary.
15-16 September. Eruptions Piton de la Fournaise, Kliuchevskoi, Turrialba, Yasur. Kilauea active.
17 September. Papua 5.9, Vanuatu 6.0
The period went strongly volcanic at the expense of quakes.
The lava lake at Kilauea is going up and down.
Mauna Loa is quake swarming.
The eruption of Piton de la Fournaise has been ongoing for several days and may continue as new solar and lunar conditions arrive on 18 September.
The 17 September Papua 5.9 and Vanuatu 6.0 reflect forecast timing difficulty during low solar activity. The forecast has been sitting on these locations for three days.
New forecast for 18-20 September.

Content © Roary Arbon 2013 - 2016
Website Design by Go Tech.