Aotearoa Summary. 15 September 2016 - 16 September 2016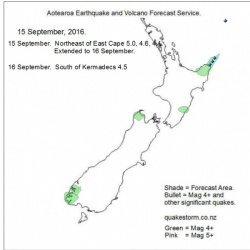 Click to Enlarge

Quake activity may increase.
Magnitude 4+ risk areas are Northeast of East Cape, East Cape, Eastern Bay of Plenty, Northern Wairarapa, Kahurangi, Fiordland.
Volcanoes quiet.
The forecast period is likely to be extended and for quakes to build up.

Update. 15 September 2300NZST.
15 September. Northeast of East Cape 5.0, 4.6, 4.1.
The forecast period is extended to 16 September.
A slow buildup seems to be underway and could become stronger and lunar modulated after 16 September.
East Cape low tide = midday, midnight.

Summary.
15 September. Northeast of East Cape 5.0, 4.6, 4.1
16 September. South of Kermadecs 4.5
This forecast was only a partial success. Quake driving conditions were weaker than expected so only East Cape was active.
The 13 September little puff of ash from White Island reflected the global switch to volcanic conditions.
New quake and volcano driving conditions and a new forecast will be posted for 18-20 September.

Content © Roary Arbon 2013 - 2016
Website Design by Go Tech.