Aotearoa Summary. 19 September 2016 - 25 September 2016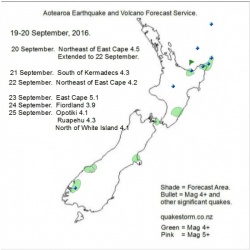 Click to Enlarge

Quake activity may increase.
Magnitude 4+ risk areas are Northeast of East Cape, East Cape 3am, 3pm; North Wairarapa 1am,1pm; Northern Cook Strait 5am, 5pm; Northern Te Anau 8am, 8pm.
Quakes may be modulated to low tide.
Volcanoes quiet.
Forecast confidence=low.

Update. 19 September 2330NZST.
Whakatane 3am, 3pm; Christchurch 1am, 1pm are added to Mag 4+ risk areas.
Quake driving conditions are setting in tonight.

Update. 20 September 2330NZST.
20 September. Northeast of East Cape 4.5
The forecast period is extended to 22 September.
The Kawerau Mag 2/3 quake swarm seems to have kept a few people awake last night.
Quakes were otherwise high in frequency but low amplitude today.
Possibility minor steam eruption White Island.

Update. 21 September 2330NZST.
21 September. South of Kermadecs 4.3
Haast is added to Mag 4+ risk areas.
Pacific and local quakes have been subdued during the period.
Quake driving conditions moderated today but a late lunar modulated burst may arrive 22 September.

Summary.
20 September. Northeast of East Cape 4.5
21 September. South of Kermadecs 4.3
22 September. Northeast of East Cape 4.2
23 September. East Cape 5.1
24 September. Kepler Mountains, Fiordland 3.9
25 September. Opotiki 4.1, Ruapehu 4.3, Northeast of White Island 4.1
Near perfect location success favoured this forecast.
Timing was less than perfect, quakes arriving two days later than expected.
Kermadec forecast locations were added for 22 September and Bay of Plenty felt the consequences of the late heavy Fiji, Kermadecs, Tonga action on 25 September.
The 23 September East Cape 5.1 came exactly at low tide which will keep the lunar sceptics guessing.
Conditions are very unsettled. More action is possible between now and a new quake period on 29 September.


Content © Roary Arbon 2013 - 2016
Website Design by Go Tech.