Aotearoa Summary. 29 September 2016 - 1 October 2016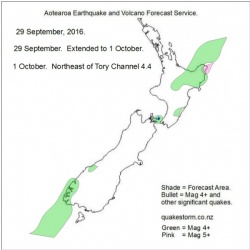 Click to Enlarge

Quake activity may increase.
Magnitude 5+ risk areas are East of East Cape, East Cape, Tolaga Bay.
Magnitude 4+ risk areas are Bay of Plenty, White Island, Rotorua, Tokoroa, Taupo, Taumarunui, Urewera, Wairoa, North Wairarapa, East of Tory Channel, Haast, Fiordland, South of Fiordland.
Volcanoes quiet.
Quakes may begin early in the period.

Update. 29 September 2330NZST.
No local Mag 4 quakes today.
The forecast period is extended to 1 October.
Solar conditions arrived on cue.
Pacific conditions are very volcanic today so quakes are subdued.
Solar conditions may get stronger, local quake action seems likely, hopefully sooner than later.

Summary.
30 September. Steam at Ruapehu.
1 October. 20 km northeast of Tory Channel 4.4
The Cook Strait 4.4 was felt in Blenheim, Nelson, Picton, Wellington, Hutt Valley, Paraparaumu.
East Cape was quiet, pointing to the Pacific trend for eruptions and away from quakes.
Vulcanologists at Ruapehu noticed a puff of steam.
Pacific volcanoes are hot.

Content © Roary Arbon 2013 - 2016
Website Design by Go Tech.