Pacific Summary. 3 October 2016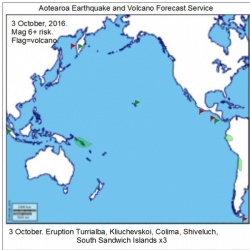 Click to Enlarge

Quake activity may increase.
Magnitude 6+ risk areas are Atacama, Northern Peru, Solomon Islands.
Quakes may be infrequent.
Volcanic activity may increase.
Sinabung, Turrialba, Kliuchevskoi, Kilauea.

Summary.
2 October. Luzon 5.7
3 October. Eruptions Turrialba, Colima, Shiveluch, South Sandwich Islands x3.
The 2 October Luzon 5.7 was the biggest Pacific quake for several days and fell frustratingly just outside the 1 October forecast for the area.
Three volcanoes are erupting at the remote South Sandwich Islands.
Many volcanoes erupting or throwing ash.
The lava lake at Kilauea rose fast to 10 meters below the rim and then fell again.

Content © Roary Arbon 2013 - 2016
Website Design by Go Tech.