Aotearoa Summary. 3 October 2016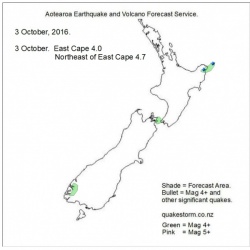 Click to Enlarge

Quake activity may increase.
Magnitude 4+ risk areas are East Cape, Northeast of Tory Channel, Te Anau.
Quakes may be infrequent.
Volcanoes quiet.

Summary.
3 October. East Cape 4.0, Northeast of East Cape 4.7
Geonet have confirmed minor volcanic activity at White Island way back on 24 September, three days after the Kermadecs volcano forecast and one week before Ruapehu blew a small puff of steam.
Moderate quaking is persistent and more possible next day or two before conditions go quiet.

Content © Roary Arbon 2013 - 2016
Website Design by Go Tech.