Pacific Summary. 5 October 2016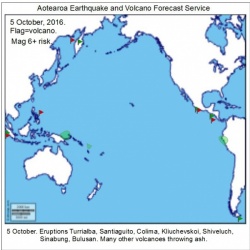 Click to Enlarge

Quake activity may increase.
Magnitude 6+ risk areas are Santa Cruz Islands, Bismarck Sea, Northern Peru.
Quakes may be infrequent.
Volcanic activity may increase.
Sinabung, Kliuchevskoi, Shiveluch, Colima, Santiaguito, Fuego, Turrialba, South Sandwich Islands.
The long volcanic period is about to end so volcanoes may be quieter than last few days.

Summary.
5 October. Eruptions Sinabung, Kliuchevskoi, Shiveluch, Colima, Santiagutio, Turrialba.
6 October. Eruption Bulusan.
Mag 6 quakes were so infrequent there weren't any.
Eruptions continued unabated. Many Pacific volcanoes including New Zealand were either erupting, pluming or steaming in the long 29 September-5 October volcanic spell.
The early forecast for a Luzon (Philippines) quake was good for location but came a day later than expected.
Philippines pressure has continued. Bulusan erupted briefly and Taiwan 5.7 to the north on 6 October.
The lava lake at Kilauea continues ominously to go up and down like a yoyo. The lake rose to 10 meters below the rim but then dropped suddenly by 26 meters.
A long range outlook for Kilauea and neighbouring giant Mauna Loa will be posted soon.
Pacific volcanoes are still very hot, activity may continue for a day or two but no specific forecast will be posted.

Content © Roary Arbon 2013 - 2016
Website Design by Go Tech.