Aotearoa Summary. 5 October 2016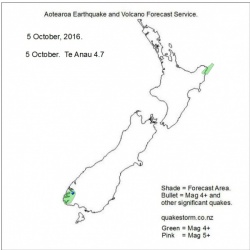 Click to Enlarge

Quake activity may increase.
Magnitude 4+ risk areas are Northeast of East Cape, East Cape, Fiordland.
Quakes may be infrequent.
Volcanoes quiet.

Summary.
5 October. Te Anau 4.7
The 29 September-5 October forecast period has ended successfully.
Daily forecasts replaced the previous multi day single forecast and were successful this time... but exhausting.
The 1 October Cook Strait 4.4 was a significant forecast success in an otherwise very moderate quake spell. Epicenter was only 20 km from the forecasted location.
The proximity of the quake, 25 km northwest of Wellington makes the quake more "important" than a quake in Fiordland where only a few possums get rumbled.
Aotearoa was also affected by the big Pacific volcanic spell...Ruapehu blew steam on 30 September and White Island boiled dry.
More information is posted on Facebook/Roary Arbon.


Content © Roary Arbon 2013 - 2016
Website Design by Go Tech.