Pacific Summary. 16 October 2016 - 19 October 2016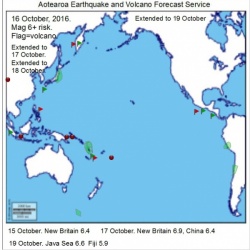 Click to Enlarge

Quake activity may increase.
Magnitude 6+ risk areas are Macquarie Island, Central Chile, Vanuatu, Santa Cruz Islands, Eastern Honshu.
Location confidence = low.
Volcanic activity may increase.
Sakurajuma, Kliuchevskoi, Sinabung, Turrialba, Colima, Yasur.
The forecast period is likely to be extended.

Forecast Update. 16 October 0100NZST.
15 October. Bismarck Sea 6.4, Northeast of East Cape 4.2, 4.2
Moderate quakes ahead of the expected arrival of a new quake period.
The Bismarck Sea was the first Pacific Mag 6 since 26 September.

Update. 16 October 2100NZST.
The forecast period is extended to 17 October.
Northern Greece, Central Peru are added to Mag 6+ risk areas.
Pacific quakes were quiet today.
Driving conditions are here tonight, a few hours later than expected.
Volcano info posted on Facebook/Roary Arbon

Update. 17 October 2300NZST.
17 October. New Britain 6.9, China 6.4. Eruptions Yasur, Kliuchevskoi, Bulsan, Colima.
The period is extended to 18 October.
Quake driving conditions arrived on time but were sluggish.
No quake location success this time, justifying low confidence...after 20 days below Mag 6, the quake trail was weak.
Eruptions predictably continued.
The lava lake at Kilauea nearly overflowed but apparently is on its way down again...maybe not for long.
More Pacific action seems likely.

Update. 19 October 0030NZST.
The period is extended to 19 October.
Himalaya/Nanda Devi, South Sandwich Islands are added to Mag 6+ risk areas.
Pacific quakes were quiet today.
Eruption Shiveluch.
Yasur, Dukono, Kliuchevskoi, Bagana, Ulawan, Turrialba, Colima pluming.
Conditions have flattened out so quakes may become infrequent. Difficult forecast conditions.
The lava lake at Kilauea has fallen rapidly by nearly 20 meters.
Typhoon Haima is gaining strength and could be a real threat to Philippines.

Summary.
17 October. New Britain 6.9, China 5.9. Eruptions Yasur, Kliuchevskoi, Bulusan, Colima.
19 October. Java Sea 6.6, Fiji 5.9
Big quakes returned to the Pacific after an absence of nearly three weeks.
Many volcanoes including Kilauea have been active during the period.
The China 6.4 was reviewed to 5.9.
Interesting gains on the mystery of why conditions seem to switch from quakes to volcanoes and back again are set to be tested in upcoming forecasts....hopefully the theory works.
Low location confidence was justified during the period...quakes were outside location areas.
Typhoon Haima has intensified to Cat 5 during the period and could cause some serious damage as it crosses the Northern Philippines.
The period is set to continue for another day or two. A new forecast map will be posted...the old one has got very messy.

Content © Roary Arbon 2013 - 2016
Website Design by Go Tech.