Pacific Summary. 23 October 2016 - 26 October 2016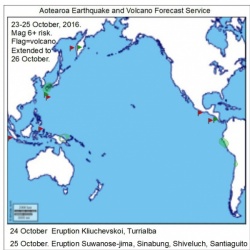 Click to Enlarge

Quake activity may increase.
Magnitude 6+ risk areas are Southwestern Honshu, Kyushu, Eastern Papua New Guinea, Northern Peru, Hindu Kush.
Volcanic activity may increase.
Kliuchevskoi, Turrialba, Asosan.
No observations or updates will be made until 25 October.

Update. 25 October 2030NZST.
The forecast period is extended to 26 October.
No Mag 6 quakes during the period.
Kliuchevskoi, Turrialba continue to erupt.
Solar driving conditions arrived on time but weaker than anticipated.
Conditions seem to be strengthening tonight on top of two days of slow buildup so action is possible tomorrow.
This Service has been offline for two days so little opportunity to select new forecast areas, we will run with the same areas on 26 October but at low confidence.
Thanks.

Update. 25 October 2130NZST
South of Titicaca is added to Mag 6+ risk areas.

Summary.
No Mag 6 quakes during the period.
Volcanoes remain active. Eruptions at Kliuchevskoi, Shiveluch, Suwanose-jima, Turrialba, Santiaguito, Dukono.
Low quake activity is proving difficult to track. Location confidence is low.
The volcanic trend continues.

Content © Roary Arbon 2013 - 2016
Website Design by Go Tech.