Aotearoa Summary Reviewed. 23 October 2016 - 26 October 2016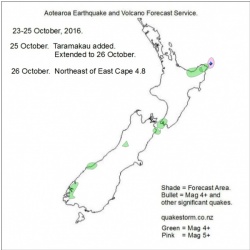 Click to Enlarge

Quake activity may increase.
Magnitude 5+ risk areas are Northeast of East Cape.
Magnitude 4+ risk areas are East Cape, Eastern Bay of Plenty, Urewera, Wellington, Eastern Cook Strait, Kaikoura, Haast, Te Anau.
No observations or updates will be made until 25 October.

Update. 25 October 2100NZST.
The forecast period is extended to 26 October.
Upper Taramakau is added to Mag 4 risk areas.
No Mag 4 quakes during the period.
Solar driving conditions turned up on time but weaker than expected so a slow buildup is possibly underway.
Conditions seem to be building more tonight so action is possible 26 October.
Locations are low confidence...no opportunity last two days to make accurate observations.
Thanks.

Summary. 26 October 2230NZST.
This forecast fell over.
No observations were made for two days but didn't matter in the end, there were no Mag 4 quakes.
Pacific quakes were quiet as the volcanic trend continued.

Summary Reviewed. 27 October 1000NZST.
26 October. Northeast of East Cape 4.8 2308NZST.
This forecast has rescued itself with a late quake just prior to the end of the period.
Nevertheless, the overall forecast was on "shakey" ground and had mistakes.
Forecasting can never be an exact science.

Content © Roary Arbon 2013 - 2016
Website Design by Go Tech.