Pacific Summary. 29 November 2016 - 1 November 2016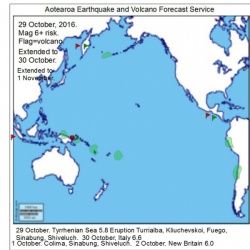 Click to Enlarge

Quake activity may increase.
Magnitude 6+ risk areas are Peru, South of Titicaca, North of Valparaiso, Northern Tonga, Northern Vanuatu, Bismarck Sea, Northern Papua New Guinea, Aleutian Islands, Eastern Himalaya.
Mag 4+ risk area = Southern France, Visso.
Volcanic activity may increase.
Turrialba, Kliuchevskoi.
Possibility Mag 7 Pacific quake.
The forecast period may be extended.

Update. 2230NZST.
29 October. Tyrrhenian Sea 5.8
The forecast period is extended to 30 October.
Pacific quakes were under Mag 6 today.
The Tyrrhenian Sea 5.8 off the western coast of Italy isn't such a good sign for Southern France, Spain, Corsica, Portugal or Italy.
Mag 4+ seems a possibility for these areas.
All data sets seem to be showing a big windup in the Pacific.

Update. 30 October 2300NZST.
30 October. Italy 6.6
The forecast period is extended to 1 November.
The SW Europe quake came in the most likely spot, the already active area around Visso.
Possibility for more SW Europe, Mediterranean Sea action next two days.
Pacific quakes are ominously quiet. Quake driving conditions are persistently high and likely to run for two more days.
The outlook for a Mag 7 Pacific quake continues.
Higher risk Pacific areas are Northern Tonga, South of Titicaca, Bismarck Sea, Northern Papua New Guinea.
Pacific volcanoes have been very active.
Eruptions at Fuego, Turrialba, Shiveluch, Sinabung, Kliuchevskoi, Shiveluch.
More info at Facebook/Roary Arbon

Summary.
29 October. Tyrrhenian Sea 5.8
30 October. Apennines/Italy 6.6
2 November. New Britain 6.0
Eruptions Sinabung, Colima, Turrialba, Shiveluch, Kliuchevskoi, Fuego.
The Pacific Mag 7 never arrived as conditions turned largely volcanic.
The Italy 6.6 was some measure of forecasting success. Europe quakes have been on the rise lately.
Luckily the quake caused limited damage and casualties due to most villages in the area sadly already being levelled and evacuated by earlier quakes.
The only Mag 6 Pacific quake came just after the period ended and was at least in a forecast zone.
Sinabung let rip with multiple eruptions.
Quakes and volcanoes may stay quiet for several days.
November could be a quiet month.
A long term outlook for Mauna Loa will be posted soon.

Content © Roary Arbon 2013 - 2016
Website Design by Go Tech.