Aotearoa Summary. 29 November 2016 - 1 November 2016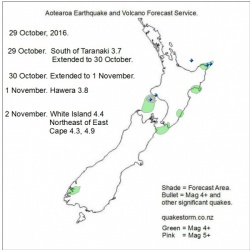 Click to Enlarge

Quake activity may increase.
Magnitude 4+ risk areas are Northeast of East Cape, East Cape, Eastern Bay of Plenty, Wairoa, Northern Hawkes Bay, North Wairarapa, South Wairarapa, Eastern Cook Strait, Northern Kaikoura, Western Taranaki Bight, Te Anau.
Volcanoes quiet.
Possibility Mag 5 Aotearoa.
The forecast period may be extended.

Update. 29 October 1300NZST.
South of Taranaki is added as Mag 5+ risk area.

Update. 29 October 2330NZST.
29 October. South of Taranaki 3.7
The forecast period is extended to 30 October.
The biggest local quake today in Taranaki Bight.
Local quakes have been ticking over fast today and may become less frequent and bigger tomorrrow.
A buildup is possibly underway.

Update. 30 October 2330NZST.
The forecast period is extended to 1 November.
Quakes were low frequency today and low magnitude.
Driving conditions are ominously high and set to remain for another two days at low frequency.
The possibility for a local Mag 5 quake remains.
Higher risk areas are South Wairarapa, Eastern Cook Strait, South of Taranaki.
More info at Facebook/Roary Arbon

Update. 1 November 2000NZST.
Local vulcanologists have noticed increased seismic activity at Ruapehu last few days. See Facebook/Roary Arbon 1 November.
The report notes that volcanic heating began early September but because they can't understand that volcanoes and quakes are linked they have made no connection between the onset of heating and the 2 September East Cape 7.1.
The report confirms wider Pacific conditions during the current forecast period...volcanic.
Pacific and local quakes have been sparse so far but volcanoes have been very active
The period may still produce a late big quake although confidence is low.

Update. 2 November 2330NZST.
2 November. Northeast of East Cape 4.9 2254NZST.
Solar quake driving conditions have spiked again tonight but probably briefly.
The long and mostly volcanic 29 October-1 November forecast period is largely over.

Summary.
29 October. South of Taranaki 3.7
30 October. Hawera 3.8
2 November. White Island 4.4, Northeast of East Cape 4.3, 4.9
Local and Pacific big quakes never came during the period as conditions stayed volcanic.
Geonet posted an interesting article on 1 November, confirming the onset of volcanic tremor and heating at Ruapehu about the time of the 2 September East Cape 7.1....go figure.
The biggest quakes during the period were in the highest risk area...but under Mag 4.
As with the Pacific a late burst of quakes came just after the forecast period ended...the decision when to close a long forecast period is always difficult.
Local and Pacific quakes may settle for several days and even for most of November.

Content © Roary Arbon 2013 - 2016
Website Design by Go Tech.