Aotearoa Summary. 10 November 2016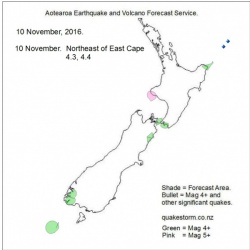 Click to Enlarge

Quake activity may increase.
Magnitude 5+ risk areas are South Taranaki, North Taranaki Bight.
Magnitude 4+ risk areas are Northeast of East Cape, East Cape, South Wairarapa, Eastern Cook Strait, Northeast of Tory Channel, Picton, Kaikoura, Lower Clarence, Te Anau, Southern Fiordland, Snares Islands.
Volcanoes quiet.
The forecast period is likely to be extended.

Summary.
10 November. Northeast of East Cape 4.4, 4.3
Quake driving conditions arrived with a pickup north of Aotearoa but little on land.
Quakes could be quiet 11 November but a pickup is likely again 12-14 November.

Content © Roary Arbon 2013 - 2016
Website Design by Go Tech.