Pacific Summary. 12 November 2016 - 13 November 2016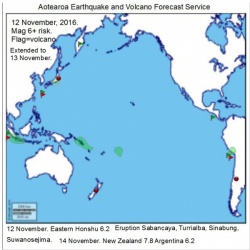 Click to Enlarge

Quake activity may increase.
Magnitude 6+ risk areas are Northern Tonga, Santa Cruz Islands, Guadalcanal, Java, Southern Sumatra, Southeastern Honshu, Titicaca, Southern Peru.
Magnitude 4+ risk area is Visso, Balkans, Northern Greece.
Volcanic activity may increase.
Suwanosejima, Sinabung, Shiveluch, Sabancaya, Turrialba.
The forecast period is likely to be extended.

Update. 12 November 2330NZST.
12 November. Eastern Honshu 6.2
Eruptions Sabancaya, Turrialba, Suwanosejima, Sinabung.
The period is extended to 13 November.
Perfect location and timing success today.
Volcanoes continue to feature in the Pacific.
More volcano info at Facebook/Roary Arbon.

Summary.
12 November. Eastern Honshu 6.2. Eruption Sabancaya,Turrialba, Suwanosejima, Sinabung.
13 November. Near Visso 4.4, 4.0
14 November. Culverden, New Zealand 7.5 0008NZST. (USGS 7.8)
Kaikoura 6.1, 6.2; Argentina 6.2

Good location success on 12 November.
Good timing success in Visso, big aftershocks there.
The Culverden and Argentina quakes have come close together.
The Culverden 7.5 was lunar modulated. Low tide 2214NZST.
Solar quake driving conditions are still strong so infrequent large quakes are still possible 14-15 November.


Content © Roary Arbon 2013 - 2016
Website Design by Go Tech.