Aotearoa Summary. 12 November 2016 - 13 November 2016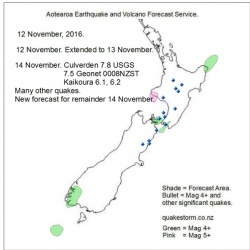 Click to Enlarge

Quake activity may increase.
Magnitude 5+ risk areas are South Taranaki, North Taranaki Bight.
Magnitude 4+ risk areas are Northeast of East Cape, East Cape, Northeast of Tory Channel, South Wairarapa, Eastern Cook Strait.
Fiordland, Snares Islands.
Volcanoes quiet.
The forecast period is likely to be extended.

Update. 12 November 2300NZST.
The forecast period is extended to 13 November.
Local quakes were quiet today.
Quake driving conditions have arrived on cue.
The forecast period is likely to be extended and become lunar modulated.

Summary.
14 November Culverden 7.5 0008NZST; Kaikoura 6.1, 6.2
Many other Mag 4+ Kaikoura, Cook Strait, Taihape.
Kaikoura was let go as a forecast area from the 10 November forecast period in the quest for tightened parameters and more accuracy.
The Culverden 7.5 was lunar modulated.
Low tide at Kaikoura 2214NZST.
Solar and lunar quake driving conditions are still strong.
A new forecast for the remainder of 14 November will be posted soon.

Content © Roary Arbon 2013 - 2016
Website Design by Go Tech.