Pacific Summary Reviewed. 15 November 2016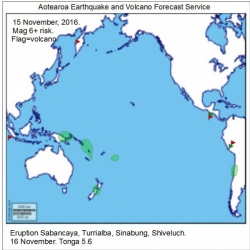 Click to Enlarge

Quake activity may increase.
Magnitude 6+ risk areas are New Zealand, Tonga, Vanuatu, Santa Cruz Islands, New Britain, Central Chile.
Volcanic activity may increase.
Sabancaya, Turrialba.
Quakes are likely to be infrequent.

Quakes were below Mag 6 during the period.
Quakes were quiet in the Pacific unless you live at Kaikoura.
Volcanoes were throwing ash. Turrialba, Sabancaya, Shiveluch.
Pacific forecasts are low confidence for a while...local quakes are absorbing all our resources.

Review.
15 November. Eruptions Sabancaya, Turrialba, Shiveluch, Sinabung.
16 November. Tonga 5.6
Volcanoes were much more active than earlier summarized.
Pacific quakes were quiet....except for Kaikoura.
The forecasted Tonga activity turned up midday 16 November.
This forecast had some successes.


Content © Roary Arbon 2013 - 2016
Website Design by Go Tech.