Aotearoa Summary. 14 November 2016 - 16 November 2016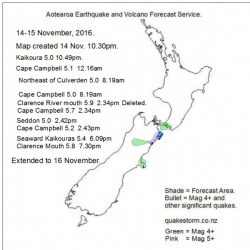 Click to Enlarge

Forecast created 2230NZST.
Magnitude 5+ risk areas are Culverden, Hanmer Springs, Kaikoura, Offshore Clarence River, Lower Clarence River, Tapuaenuku, Kekerengu, Waita River, Ward, Cape Campbell.
Magnitude 4+ risk areas are Upper Waiau River, Blenheim, Orongorongo Valley, Northeast of Tory Channel, Christchurch.
Low tide Kaikoura = 11.15pm.
15 minute updates at Facebook/Roary Arbon

Update. 15 November 1500NZST.
The forecast map is unchanged.
Mag 5 quake locations have been added but no Mag 4 locations or the map would be swamped.
Quakes eased overnight as solar driving conditions weakened.
The full moon had no effect, lunar quake driving conditions are always much weaker than solar conditions.
Quakes will become infrequent but still large as solar conditions continue.
The forecast period is likely to be extended to 16 November and maybe 17 November.

Clarence River Mouth 5.9 2.34pm Deleted
Cape Campbell 5.7 2.34pm
Seddon 5.0 2.42pm
Cape Campbell 5.2 2.43pm
More big action just now at Cape Campbell.

Aoteraroa Update. 15 November 10.30pm.
Cape Campbell 4.9 8.11pm
Offshore Clarence River 4.5 9.51pm
Cape Campbell 4.6 9.52
Quakes have eased a little tonight but another heavy burst seems likely.
The most likely area for a big quake seems to be the ocean northeast of Kaikoura, Offshore Clarence River and Cape Campbell.
Lunar influence is strong tonight and will intensify solar conditions.
Solar conditions have been slowly weakening all day but have changed to active in the last few minutes.

Aotearoa Update. 15 November 10.45pm.
The forecast period is extended to 16 November.
Forecast areas are the same.
Higher risk areas are Northeast of Kaikoura, Offshore Clarence River, Cape Campbell.
Quakes may be lunar modulated around low tide.
Low tide Kaikoura =12.03am, 12.45pm.
Quakes are likely to become less frequent but remain large.
Big quakes, spaced apart.
Regular updates will be made until at least midnight.
Volcanoes quiet.

Aotearoa Update. 16 November 4.00pm.
Kaikoura 4.9 7.19am
Cape Campbell 4.8 7.59am
Cape Campbell 4.8 8.53am
Offshore Clarence 4.4 12.01pm
Waita River mouth 4.6 12.47pm
Seaward Kaikouras 4.1 3.04pm
Quake activity has steadily weakened today.
Solar quake driving conditions were also weakening and largely reduced except for around lunchtime.
Ironically a burst of quakes came through at lunchtime.
Lunar effects were also strong at midday. Low tide Kaikoura was 12.45pm.
Low tide tonight Kaikoura 1.00am is a big one.
A flurry of quakes is possible after midnight, especially if solar conditions switch to active.
Quakes will otherwise hopefully keep reducing in magnitude and frequency ahead of a new burst of solar activity due on Sunday.
Mag 4 quakes are not being recorded onto the map today...too many to keep up with.
A new map for 17 November will be posted soon and may feature a couple of new forecast areas.

Aotearoa Summary. 14 November 2230NZST-16 November.
A new forecast map was started at 2230.
Mag 4 quakes were largely unrecorded, there were so many and impossible to fit on the map.
Mag 5 quakes are all on the map.
Most quakes were in the Kaikoura/Offshore Clarence and Cape Campbell zones.
Updates through the day reflected activity well and the forecast map turned out to be accurate even though the locations given were "no brainers."
The Seaward Kaikoura risk area from the 10 November forecast was dropped from the following 14 November forecast in the quest to narrow down risk areas, a forecasting mistake.
Seaward Kaikouras were epicenter for the 6.5, 6.2, 6.1 quakes.
Fortunately the data gathered for these quakes has proven to be good even if the forecast timing wasn't.
A major breakthrough today understanding the Culverden 7.8 gives us confidence at this Service that we can improve our forecasting acumen when the next Mag 7.8 arrives in the area....in November 2100.

Content © Roary Arbon 2013 - 2016
Website Design by Go Tech.