Aotearoa Forecast Updated. 17 November 2016 - 18 November 2016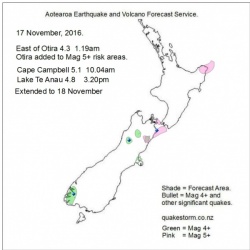 Click to Enlarge

Quake activity may increase.
Magnitude 5+ risk areas are Culverden, Kaikoura, Offshore Clarence, East of Cape Campbell, Northeast of Cape Campbell, Turakirae Head, Orongorongo River, Northeast of Tory Channel, East Cape.
Magnitude 4+ risk areas are Christchurch, Lake Tennyson, Otira., Fiordland.
Lunar modulation may center quakes around low tide.
Low tide Kaikoura 1.00am.
Quake activity, if any, is likely to be infrequent.
Volcanoes quiet.
More info at Facebook/Roary Arbon.

Update. 17 November 1.33am
East of Otira 4.3 1.19am
Otira is increased to Mag 5+ risk.
Solar quake driving conditions have been switched off last few hours.
Forecast map updated.

Update. 12.20pm
17 November.
East of Otira 4.3 1.19am
Cape Campbell 5.1 10.04am
Good location success today so far.
Strong solar conditions drove a burst of late morning quakes.
Solar conditions were weak at last nights low tide so lunar influence was very weak as well.
No lunar quake effects observed. Quakes were mostly quiet...apart from Otira.
Otira was added as a Mag 5+ risk area after the Mag 4.3
Infrequent large aftershocks are still possible today despite weakening solar quake driving conditions.
Cape Campbell and Kaikoura/Offshore Clarence seem most likely hotspots.

Update. 17 November 2330NZST.
The period is extended to 18 November.
Quakes and solar quake driving conditions have been steadily weakening today.
Cape Campbell was the hotspot.
Lunar effects are strong again tonight.
Low tide Kaikoura = 0200NZST.
Lunar effects are likely to be weak unless solar conditions switch to active...its possible.
The possibility for an isolated big quake exists.
A new burst of solar activity is due late Saturday, 19 November.
A new forecast map will be posted then.
No regular updates tonight.
Thanks.

Update. 18 November 9.30am
Quakes continued to ease back overnight despite some weak solar quake driving conditions and strong lunar modulation.
Solar conditions may stay more switched on today than yesterday but very weak.
The potential for an isolated big quake or a flurry of Mag 4 is possible as conditions continue to fade.
Highest risk times 10.00am - 12.00pm. Risk time confidence =low.
Northeast of Otira remains a Mag 5+ risk area.
A pickup seems possible late on Saturday 19 November.
No regular updates today.
Thanks.

Content © Roary Arbon 2013 - 2016
Website Design by Go Tech.