Aotearoa Summary. 22 November 2016 - 23 November 2016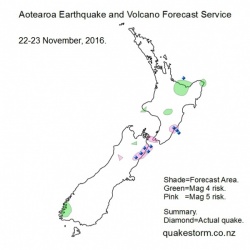 Click to Enlarge

Quake activity may continue.
Magnitude 5+ risk areas are Culverden, Southwest of Kaikoura, Kaikoura, East of Kaikoura, Seaward Kaikouras, Offshore Clarence, Waita, Kekerengu, Cape Campbell, Northeast of Tory Channel, Porangahau, Upper Crooked River.
Magnitude 4+ risk areas are Upper Wairau Valley, Lower Orongorongo River, Taranaki, Taihape, Rotorua, Bay of Plenty, East Cape, Te Anau.
Locations are largely the same as previous forecast.

Update. 22 November, 9.00am
Porangahau 3.9 10.33pm
Porangahau 3.9 2.43am
Seaward Kaikouras 4.9 6.51am
North Wairarapa is raised from Mag 4 to Mag 5+ risk.
Pressure has been building overnight.
Strong solar quake driving conditions are arriving at the time of this posting.
A major quake uptick is possible.
Forecast map updated.

Update. 23 November 1.00am
The forecast period is extended to 23 November.
Risk areas are unchanged..
Quakes may become less frequent but still big.

Forecast Summary.
22 November.
Porangahau 3.9 2.43am
Cheviot 4.4 4.58am
Seaward Kaikouras 4.9 6.51am
Porangahau 4.2 11.04 am
SE of Porangahau 5.5 1.19pm
Culverden 4.8 6.12pm
Culverden 5.7 6.13pm
Culverden 4.2, 4.4, 4.5, 4.6 6.30pm
Northeast of Tory Channel 3.8 8.08pm
Northeast of Te Anau 3.7 8.32pm
Hunterville 3.7 11.59pm

23 November.
Cape Campbell 4.4 3.03am
Southwest of Kaikoura 4.0 3.03am
White Island 4.9 8.38am
Upper Crooked River 3.5, 3.7 9.02am
Culverden 4.0 10.08am
Cape Campbell 4.7 2.00pm
Cheviot 4.2 5.09pm
Ward 4.1 5.10pm
Cape Campbell 4.4 11.04pm
Cheviot 4.2 11.46pm

A major quake pickup occurred mid morning on 22 November, meeting the forecast profile for a major solar pickup.
Quakes followed the forecast into North Wairarapa.
The North Island started to move, justifying the North Wairarapa forecast inclusion and Magnitude increase.
Later on in the South Island the Culverden 5.7 was widely felt in Christchurch.
A quake swarm hit the Central North Island before midnight but under Mag 4.
Decreasing quake driving conditions appeared set to continue for another day with quakes slightly decreasing so the forecast period was extended to 23 November.

Plenty of quakes in forecast areas on 23 November, decreasing in frequency and magnitude.

Another quake pickup seems likely early 25 November.

Content © Roary Arbon 2013 - 2016
Website Design by Go Tech.