Aotearoa Forecast Updated. 25 November 2016 - 26 November 2016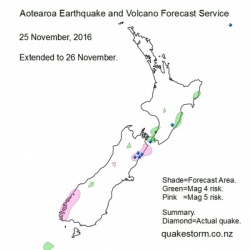 Click to Enlarge

Quake activity may increase.
Magnitude 5+ risk areas are Fiordland, Upper Crooked River, Culverden, Southwest of Kaikoura, Kaikoura, East of Kaikoura, Seaward Kaikouras, Lower Clarence, Tapuaenuku, Kekerengu, Waita River, Ward, Cape Campbell.
Magnitude 4+ risk areas are Tolaga Bay, Gisborne, Hastings, Waipukurau, Porangahau, Ohakune, Levin, West of Mana Island, East of Picton, Lower Orongorongo Valley, Upper Wairau River, Inland Haast, Snares Islands.

Quakes have steadily settled since the 22 November Culverden 5.7 and North Wairarapa 5.5.
New solar quake driving conditions have set in tonight.
Quakes may increase in magnitude and frequency overnight.
Volcanoes quiet.

Update. 25 November 4.00pm.
South of Kermadecs 5.0 2.15am
Kaikoura 4.2 4.49am
Dannevirke 4.1 7.16am
Culverden 4.1 8.30am
NW of Cheviot 4.2 10.03am

Solar quake driving conditions have arrived on cue.
All action at Mag 5 forecast locations so far.
Conditions look strong and set to continue another day.
Quakes may become less frequent but bigger during the remainder of today.
The forecast period is likely to be extended.
Forecast map updated.

Update. 26 November 12.00am
The forecast period is extended to 26 November.
Quakes were active in the morning but then quiet despite strong solar quake driving conditions...never a good sign.
A buildup seems to be underway.
All forecasted locations and magnitudes remain unchanged.

Update. 26 November 5.45pm
Southwest of Kaikoura 4.1 1.36am
South of Wellington 4.6 3.22am
Solar quake driving conditions have been steady but weak.
A buildup appears to be underway and may result in an isolated Mag 5 sequence.
The Cook Strait 4.6 was widely felt around Wellington, Hutt Valley, Wairarapa, Kapiti, Blenheim, Nelson.
The forecast period is likely to be extended.
Forecast map updated.

Content © Roary Arbon 2013 - 2016
Website Design by Go Tech.