Pacific Summary. 25 November 2016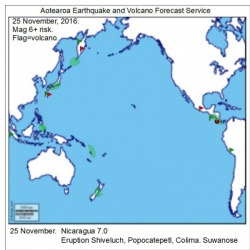 Click to Enlarge

Quake activity may increase.
Magnitude 6+ risk areas are Southern Honshu, Shikoku, Central Kuril Islands, Nicaragua, South of Philippines, Vanuatu, Santa Cruz Islands, New Zealand.
Southern Honshu is higher risk.
Volcanoes may become more active.
Shiveluch, Sinabung, Turrialba, Suwanosjima, Sabancaya.
The forecast period may be extended.

Update. 25 November 2.15pm
Nicaragua Offshore 7.0 7.43am
Perfect location and timing success today so far.
Strong solar quake driving conditions had already set in when this forecast was posted.
Conditions are still strong so more Pacific action seems possible during the remainder of the period.
The forecast period may be extended.
Forecast map updated.

Summary.
Nicaragua 7.0
Eruptions Popocatepetl, Colima, Shiveluch, Suwanosejima.
Volcanic pressure and quake action today in Latin America.
The typically lower confidence Pacific forecast has come up trumps today.

Content © Roary Arbon 2013 - 2016
Website Design by Go Tech.