Aotearoa Summary. 24 November 2016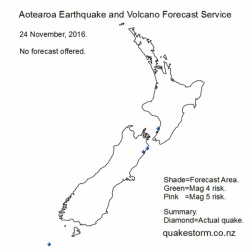 Click to Enlarge

Snares Islands 5.4 9.30am
Kekerengu 4.3 1.08pm
Levin 4.0 5.02pm
Seaward Kaikouras 4.0
No forecast was offered.
Quake driving conditions had been steadily easing since the Culverden 5.7 and North Wairarapa 5.5 on 22 December.
A reduced Mag 4 forecast map was possibly a better option than no forecast but data clearly shows a relatively quiet day for quakes ahead of the expected 25 November pickup.

Content © Roary Arbon 2013 - 2016
Website Design by Go Tech.