Pacific Summary. 26 November 2016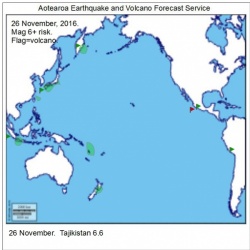 Click to Enlarge

Quake activity may increase.
Magnitude 6+ risk areas are New Zealand, Vanuatu, Santa Cruz Islands, Java, East of Taiwan, Shikoku, Southern Honshu, Kamchatka Peninsula.
Volcanic activity may increase.
Popocatepetl, Colima, Shiveluch, Kerinci, Suwanosejima, Sabancaya.

Summary.
Tajikistan 6.6
Eruptions Popocatepetl, Shiveluch.
Pacific quakes were under Mag 6 today.
Latin and South American volcanoes seem to be getting hot.
Popocatepetl had multiple eruptions.
The lava lake at Kilauea is very high but not overflowing.

Content © Roary Arbon 2013 - 2016
Website Design by Go Tech.