Pacific Summary. 27 November 2016 - 28 November 2016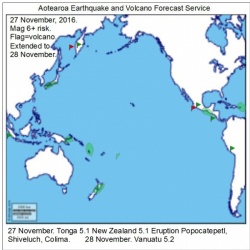 Click to Enlarge

Quake activity may increase.
Magnitude 6+ risk areas are New Zealand, Tonga, Vanuatu, Santa Cruz Islands, New Britain, Southern Honshu/Osaka, Shikoku, Southern Mexico, Guatemala, Eastern Caribbean Sea.
Volcanic activity may increase.
Shiveluch, Kerinci, Popcatepetl, Turrialba, Sabancaya
Quakes are likely to be infrequent.

Update. 28 November 12.15am.
Tonga 5.1
New Zealand 5.1
The forecast period is extended to 28 November.
Pacific quakes were infrequent today...just don't tell anybody in New Zealand.
Southern Honshu/Osaka is higher risk.
The period is largely volcanic so far.
Popocatepetl and Colima both active in Mexico.
Sabancaya, Kerinci are hot.

Summary.
27 November. Tonga 5.1 New Zealand 5.1 Eruption Popocatepetl, Shiveluch, Colima.
28 November. Vanuatu 5.2
Pacific quakes were under Mag 6 during the period.
The biggest quakes came in forecast locations.
The eruption of Popocatepetl was apparently quite large and several large explosions.
Latin America is hot along with the 26 November Nicaragua 7.0, plenty of pressure.
More big pressure seems to be building in the South Pacific.

Content © Roary Arbon 2013 - 2016
Website Design by Go Tech.