Aotearoa Summary. 4 December 2016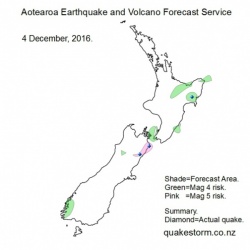 Click to Enlarge

Quake activity may increase.
Magnitude 5+ risk areas are Culverden, Southwest of Kaikoura, Kaikoura, East of Kaikoura, Offshore Clarence, Seaward Kaikouras, Tapuaenuku, Waita River, Ward, Cape Campbell.
Magnitude 4+ risk areas are Fiordland, Upper Crooked River, Lower Orongorongo River, Northwest of Cape Campbell, Northern Cook Strait, Levin, Porangahau, North of Wairoa, Eastern Bay of Plenty, Rotorua, Northern Urewera, East Cape, Northeast of East Cape.
Quakes may be infrequent and moderate.
Volcanoes quiet.
A significant quake period may build up from 8 December.

Summary.
North of Wairoa 4.4 10.19am
North of Ward 5.5 4.15pm
Cheviot 4.2 7.03pm
Quakes were infrequent and moderate with the exception of Ward 5.5.
Good location success today.
Quakes seem likely to progress infrequently until 8 December.
Quakes are likely to increase for several days from 8 December.
A major quake spell seems likely then including Mag 6+ in New Zealand and other Pacific locations.

Content © Roary Arbon 2013 - 2016
Website Design by Go Tech.