Aotearoa Summary. 7 December 2016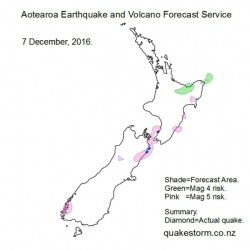 Click to Enlarge

Magnitude 5+ risk areas are Western Fiordland, Upper Crooked River, Culverden, Southwest of Kaikoura, Kaikoura, East of Kaikoura, Seaward Kaikouras, Tapuaenuku, Kekerengu, Lower Clarence River, Offshore Clarence, Waita River, Ward, Cape Campbell, Northwest of Cape Campbell, Northern Cook Strait, Lower Orongorongo River, West of Levin, Porangahau, Dannevirke, South of Cape Kidnappers, North of Wairoa.
Magnitude 4+ risk areas are Northeast of East Cape, East Cape, Eastern Bay of Plenty, Rotorua, Murupara.
Quakes may be infrequent.
Isolated Mag 5 quake and a late buildup are possible ahead of strong quake activity on 8 December.
Higher risk areas are Cape Campbell/Kaikoura/Culverden.
Volcanoes quiet.

Update. 7 December 1.30pm
Ward 4.6 9.40am
Offshore Clarence 4.3 11.25am
Todays forecast has held up so far.
Good location success as a light burst of quakes passes.
Strong solar quake driving conditions are set to arrive late today or early 8 December.
Forecast map updated.
More info at Facebook/Roary Arbon.

Summary.
Ward 4.6 9.40am
Offshore Clarence 4.3 11.25am
Quakes largely followed the forecast.
Few quakes were recorded ahead of the big 8-9 December quake spell.

Content © Roary Arbon 2013 - 2016
Website Design by Go Tech.