Aotearoa Summary. 10 December 2016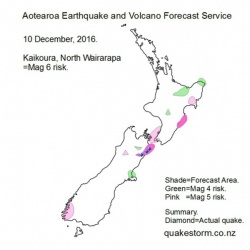 Click to Enlarge

Magnitude 6 risk areas are Culverden, Southwest of Kaikoura, Kaikoura, East of Kaikoura, Seaward Kaikouras, Lower Clarence River, Kekerengu, Offshore Clarence, Kekerengu, Waita River, Ward, Cape Campbell, Cape Turnagain, Porangahau, Dannevirke, Waipukurau, South of Cape Kidnappers.
Magnitude 5 risk areas are Fiordland, Upper Crooked River, South of Wellington, Northern Cook Strait, Levin, Lake Wairarapa, North of Wairoa.
Magnitude 4 risk areas are Christchurch, South Awatere Valley, Taihape, Urewera, Rotorua, Eastern Bay of Plenty, East Cape.

Quakes are more likely later in the day.
Lunar modulation may center quakes around low tide.
Kaikoura Low tide time = 8.00pm
South of Cape Kidnappers Low Tide Time = 9.00pm
Volcanoes quiet.

Update. 10 December 11.00am
Culverden 4.1 10.29am
Offshore Waita 4.1 10.37am
Relatively quiet quake conditions overnight and this morning.
This is likely to change from afternoon.
Forecasted Locations and Magnitudes are unchanged.
Forecast map updated.

Summary.
Culverden 4.1 10.29am
Offshore Waita 4.1 10.29am
Seaward Kaikouras 4.2 6.02pm
Solar quake driving conditions have been weak for most of the day.
Lunar influence was strong tonight but without solar driving conditions nothing much ever happens.
Solar conditions will fluctuate during the next day and lunar influence will be very strong at low tide so quakes will happen...its just a matter of how big. Be Careful.

Content © Roary Arbon 2013 - 2016
Website Design by Go Tech.