Pacific Summary. 10 December 2016 - 11 December 2016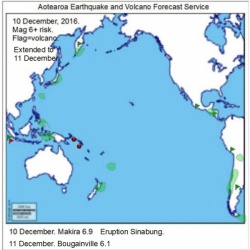 Click to Enlarge

Magnitude 6+ risk areas are New Zealand, Kermadec Islands, Banda Sea, Molucca Sea, Okinawa, Southeast Honshu, Kamchatka, Guatemala, South of Titicaca, Central Chile, South Sandwich Islands.
Magnitude 4 risk areas are Switzerland, Southern France, Northern Italy.
Possibility Mag 7 Pacific quake. South America higher risk.
Mag 7 confidence=low.
Volcanic activity may increase.
Cerro Hudson, Sabancaya, Turrialba, Colima, Shiveluch, Sinabung.
A switch from volcanoes to quakes seems to be underway.

Update. 10 December 10.30am
Makira/Solomon Islands 6.9
A big aftershock this morning but all other areas quiet.
Possibility for Mag 7 Pacific remains.

Update. 10 December 11.00pm
The forecast period is extended to 11 December.
The only big Pacific quake action was aftershock quakes from the Makira 7.8.
Damage on the remote and large island is reported to be extensive but apparently few injuries.
Colima, Turrialba, Shiveluch erupted 9 December but no data yet for 10 December.
Sinabung erupts 10 December.
Possibility Mag 7 Pacific quake 11 December.
Forecast map updated.

Summary.
10 December. Makira 6.9 Sinabung eruption.
11 December. Bougainville 6.1
Pacific quakes just made it to Mag 6 during the period.
The Mag 7 never came, conditions seem to be still building.
Many volcanoes are throwing ash clouds but no big eruptions.
The potential for a big Pacific quake, including New Zealand, remains.

Content © Roary Arbon 2013 - 2016
Website Design by Go Tech.