Aotearoa Summary. 12 December 2016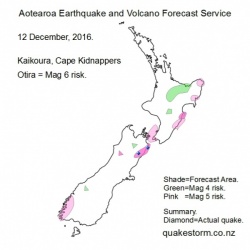 Click to Enlarge

Magnitude 6+ risk areas are South of Cape Kidnappers, Upper Crooked River/Mt Alexander, Culverden, Southwest of Kaikoura, Kaikoura, East of Kaikoura, Seaward Kaikouras, Lower Clarence, Offshore Clarence, Waita River, Ward, Cape Campbell.
Magnitude 5+ risk areas are Fiordland, South of Wellington, Lake Wairarapa, Lower Orongorongo River, Northern Cook Strait, West of Levin, Levin, Porangahau, Dannevirke, Waipukurau, North of Wairoa, Gisborne, East Cape.
Magnitude 4+ risk areas are South of Haast, South Awatere Valley, Taihape, Murupara, Urewera, Rotorua, Eastern Bay of Plenty.
Lunar modulation may center quakes around low tide.
Low Tide Kaikoura = 3.00am, 4.00pm
Low Tide Cape Kidnappers = 4.00am, 5.00pm
Low Tide Hokitika = 4.00am, 4.00pm
11 December conditions indicated a windup and a move into the North Island.
Be careful. Quakes could happen anywhere.
Volcanoes quiet.

Update. 12 December 10.45am
Taumarunui 3.6 12.16am
Eketahuna 3.7 2.16am
Quakes were under Mag 4 overnight.
Solar quake driving conditions are fluctuating.
South of Cape Kidnappers is higher risk.
Be careful.

Summary.
Eketahuna 3.7 2.16am
Culverden 4.1 6.13pm
Ward 4.7 6.14pm
The Ward 4.7 was widely felt in the lower North Island.
Quakes tend to come in pairs as with tonights 6.13pm double quake.
Solar quake driving conditions were weak today but fluctuating and still winding up.
No clear lunar effects were observed despite Ward 4.7 being two hours from low tide.
Lunar influence will remain strong for two or three days so when solar conditions switch on, lunar quake modulation could be strong.



Content © Roary Arbon 2013 - 2016
Website Design by Go Tech.