Aotearoa Summary. 13 December 2016 - 14 December 2016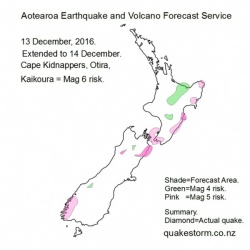 Click to Enlarge

Magnitude 6 risk areas are South of Cape Kidnappers, Upper Crooked River/Mt Alexander, Cape Campbell, Ward, Waita River, Offshore Clarence, Lower Clarence, Seaward Kaikouras, East of Kaikoura, Kaikoura, Southwest of Kaikoura, Culverden.
Magnitude 5+ risk areas are East Cape, North of Wairoa, Gisborne, Waipukurau, Dannevirke, Eketahuna, Porangahau, Lake Wairarapa, Lower Orongorongo River, South of Wellington, Northern Cook Strait, Levin, Fiordland.
Magnitude 4 risk areas are Eastern Bay of Plenty, Urewera, Rotorua, Murupara, Taihape, South Awatere Valley.
Quakes may be infrequent.
Lunar modulation may center quakes near low tide.
Cape Kidnappers Low Tide = 11.00am, 11.30pm
Kaikoura Low Tide = 10.30am, 11.00pm
Hokitika Low Tide = 5.00am, 5.00pm
South of Cape Kidnappers is higher risk.
Volcanoes quiet.
Be careful.

Update. 14 December 12.15am
The forecast period is extended to 14 December.
All forecast areas and Magnitudes are unchanged.
More information at Facebook/Roary Arbon

Update. 14 December 10.00am
Quakes were infrequent overnight and yesterday.
Solar quake driving conditions were fluctuating and weak.
Lunar modulation was strong but with weak solar driving conditions present there simply weren't many quakes to modulate.
The forecast period is likely to remain mostly quiet and probably extended for at least a day.
A big isolated Pacific quake is possible during one of the solar fluctuations. South America seems higher risk.
Kaikoura now seems higher local risk.
Kaikoura Low Tide = 11.30am, 11.30pm
Hokitika Low Tide = 6.00pm
Cape Kidnappers Low Tide = 12.30pm, 12.30am
Be careful. Quakes could happen anywhere.

Summary.
Local quakes were below Mag 4 during the period.
No Supermoon quake. Solar quake driving conditions were consistently weak so lunar modulation was absent.
A Supermoon Summary will be posted later.
The forecasted possibility for an isolated Mag 6 quake was justified...the entire population of New Zealand realises that the 14 November Culverden 7.8 will create a significant aftershock some time soon.
More info at Facebook/Roary Arbon

Content © Roary Arbon 2013 - 2016
Website Design by Go Tech.