Aotearoa Summary. 15 December 2016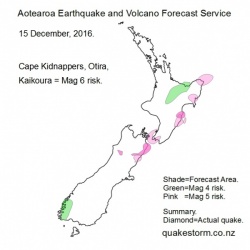 Click to Enlarge

Magnitude 6 risk areas are Upper Crooked River, South of Cape Kidnappers, Culverden, Southwest of Kaikoura, Kaikoura, East of Kaikoura, Seaward Kaikouras, Lower Clarence, Ward, Cape Campbell.
Magnitude 5 risk areas are Amberley, South of Wellington, Turakirae Head, Lake Wairarapa, Northern Cook Strait, Levin, Porangahau, Eketahuna, Dannevirke, Waipukurau, North of Wairoa, Gisborne, East Cape, Northeast of East Cape.
Mangitude 4 risk areas are Fiordland, Eastern Bay of Plenty, Rotorua, Tokoroa, Murupara, Urewera.
Quakes are becoming very infrequent as the wider quake period beginning with the Solomon Islands 7.8 on 9 December closes next day or two.
Low possibility for an isolated big Pacific quake, including New Zealand.
Lunar modulation may center quakes around low tide.
Kaikoura Low Tide = 12.00pm, 12.00am
Hokitika Low Tide = 6.00am, 6.00pm
Cape Kidnappers Low Tide = 1.00pm, 1.00am
Volcanoes quiet.

Summary.
Local quakes were quiet for the third day.
Solar quake driving conditions continue to weaken with no fluctuations.
The well tested theory that lunar modulation requires solar quake driving conditions to be present is confirmed again.
Lunar modulation will steadily weaken next days...any quake forecasters will need to have more than lunar elements to their forecasts or their next forecast might not be until the next Supermoon Series in 2034.
A Supermoon Summary will be posted later.
Local Magnitude 6 risk areas are likely to remain for the next few days...it only takes a brief unforecasted burst of solar energy to drive quakes.
New Zealand Seismological Observatory, Geonet, have "predicted" a Mag 6 soon based on the plotted decay curve from the Culverden 7.8, claiming a big one is overdue according to statistics.

Content © Roary Arbon 2013 - 2016
Website Design by Go Tech.