Pacific Summary. 20 December 2016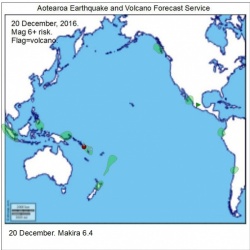 Click to Enlarge

Magnitude 6+ risk areas are Ecuador, Central Chile, New Zealand, Kermadec Islands, Tonga, Vanuatu, Santa Cruz Islands, Makira,
New Britain, Bismarck Sea, Sumatra, South of Philippines.
Eruption Colima possible.
Solar quake driving conditions are late arriving from 19 December.
Possibility Mag 7 Pacific.
South America is higher risk.

Summary.
Makira 6.4
The late arriving conditions from 19 December never arrived on 20 December either.
Solar quake driving conditions have been steady however.
The wider 18-26 December quake period is now progressing toward the more active later part as the period builds very strongly.
Quakes have dominated since the 14 November Culverden 7.8 but volcanoes may become more dominant.

Content © Roary Arbon 2013 - 2016
Website Design by Go Tech.