Pacific Summary. 21 December 2016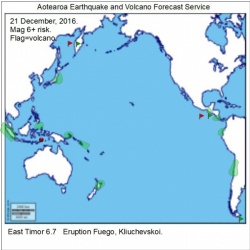 Click to Enlarge

Magnitude 6+ risk areas are New Zealand, Makira, Santa Cruz Islands, New Britain, Sumatra, South of Philippines, Eastern Honshu, Guatemala, Costa Rica, Ecuador, Central Chile.
Volcanic activity may increase.
Kliuchevskoi, Colima, Turrialba, South Sandwich Islands.
Possibility Mag 7 Pacific. South America = higher risk.

Summary.
East Timor 6.7
Eruption Kliuchevskoi.
Daily Mag 6 quakes continue in the Pacific.
No location success but timing good.
The 18-26 December wider forecast period has been slightly quieter than forecast expectations so far... yet very active.
The even more active 22-26 December period is about to unfold.

Content © Roary Arbon 2013 - 2016
Website Design by Go Tech.