Pacific Summary. 22 December 2016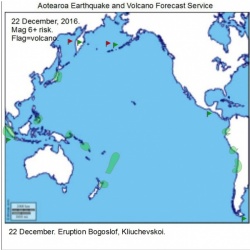 Click to Enlarge

Magnitude 6 risk areas are New Zealand, Kermadec Islands, Tonga, Santa Cruz Islands, Makira, New Britain, Southern Philippines, Sumatra, Eastern Honshu, Ecuador, Southern Peru, Central Chile, Southern Greece.
Volcanic activity may increase.
Fuego, Sinabung, Bogoslof, Shiveluch.
Solar quake driving conditions have been steady during the early part of the 18-26 December wider forecast period.
Steady Mag 6 Pacific quakes have followed.
Stronger quake driving conditions have set in last few hours so quakes may become bigger and more frequent until 26 December.
Possibility for Pacific Mag 7 increases.
The period has strong volcanic and quake elements.
Watch out for big Pacific action next four days.

Summary.
Eruptions of Bogoslof, Kliuchevskoi.
Pacific quakes were quiet, North Pacific volcanoes were firing.
Bogoslof let rip with several brief but explosive eruptions.
Solar quake driving conditions are on a building trend.

Content © Roary Arbon 2013 - 2016
Website Design by Go Tech.