Pacific Summary. 25 December 2016 - 26 December 2016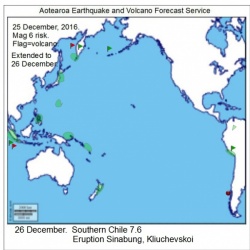 Click to Enlarge

Magnitude 6 risk areas are New Zealand, Northern Vanuatu, Santa Cruz Islands, Makira, New Ireland, Sumatra, Philippines, Northern Marianas Islands, Northern Honshu, Hokkaido, Northern Kurils, Inland Colombia, Southern Peru Coast, Southern Greece, Crete.
Quakes may be infrequent.
Possibility Mag 7 Pacific.
Volcanoes may be active.
Bogoslof, Kliuchevskoi, Shiveluch, Sinabung, Sabancaya.
Solar quake driving conditions seem to have volcanic and quake elements. The period may be going volcanic.

Update. 26 December 1.30am
The forecast period is extended to 26 December.
Pacific quakes were infrequent.
Volcanoes were quiet.
Solar quake driving conditions were steady so could still be building up.
The theory testing the switch between quakes and volcanoes is unclear at the moment as conditions keep jumping around.
The forecast period may be extended.

Summary.
26 December. Southern Chile/Puerto Quellon 7.6
Eruption Sinabung, Kliuchevskoi.
The big isolated South America quake finally came although the Peru location given in the forecast didn't work.
Solar quake driving conditions are still very strong so the period will run for at least another day.
Volcanoes were moderate and could become more active.

Content © Roary Arbon 2013 - 2016
Website Design by Go Tech.