Pacific Summary. 28 December 2016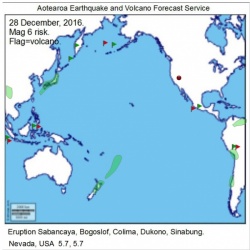 Click to Enlarge

Magnitude 6 risk areas are Chile/Valdivia to Concepcion, Southern Peru, South of Titicaca, Northern Colombia, Venezuela, Honshu, Okinawa, New Zealand, Eastern Himalaya/ Sichuan, Southern Greece.
Magnitude 4 risk areas are Romania.
Volcanic activity may increase.
Sabancaya, Colima, Bogoslov, Kliuchevskoi, Eboko, Dukono, Sinabung.
Volcanoes are already going off on 27 December and may continue.
The forecast period is likely to be extended and could become volcanic.

Update. 28 December 11.15am
Kermadec Islands, Tonga are added to Mag 6 risk areas.
No Mag 6 Pacific quakes overnight.
No volcano data available.
Quakes are infrequent and likely to stay that way.
Solar quake driving conditions are slowly weakening but still have plenty of energy.
The forecast period is likely to be extended.
Forecast map updated.

Summary.
Romania 5.6
Nevada, USA 5.7, 5.7, 5.5
Eruption Sabancaya, Colima, Bogoslof, Dukono, Sinabung.
Strong volcanic activity near the end of the wider 18-26 December forecast period.
Eruptions come near the end or soon after a quake period.
The Romania 5.6 was the first forecast for this location and a huge success.

Content © Roary Arbon 2013 - 2016
Website Design by Go Tech.