Pacific Summary. 29 December 2016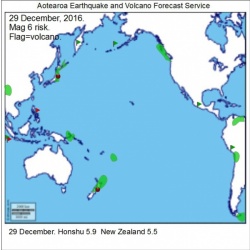 Click to Enlarge

Magnitude 6 risk areas are New Zealand, Tonga, Bismarck Sea, Honshu, Hokkaido, Eastern Himalaya, Sichuan, Inland Colombia, Venezuela, South of Titicaca, South Sandwich Islands.
Volcanic activity may increase.
Sabancaya, Colima, Bogoslof, Kliuchevskoi, Sinabung.
Quake activity has been giving way to volcanoes but an isolated big quake is possible, including New Zealand.

Summary.
Honshu 5.9
Cook Strait, New Zealand 5.5
Eruption Bulusan, Sinabung.
Great location success at a very difficult point in the forecast cycle.
Volcanoes are very active, many are throwing ash.
Big isolated quakes at the end of a quake period are lower confidence quakes to forecast.

Content © Roary Arbon 2013 - 2016
Website Design by Go Tech.