Pacific Summary. 1 January 2017 - 2 January 2017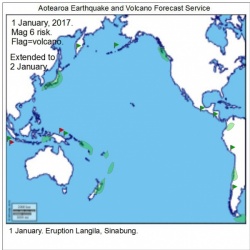 Click to Enlarge

Magnitude 6 risk areas are New Zealand, Kermadec Islands, Fiji, Northern Vanuatu, Santa Cruz Islands, Banda Sea, Honshu, Haida Gwai, Inland Colombia, Chile/Valparaiso to Vallenar, South Sandwich Islands, Greece.
Volcanoes have been very active and may continue this way.
Nevados de Chillan, Sabancaya, Turrialba, Colima, Bogoslof, Shiveluch, Kliuchevskoi, Sinabung, Langila.

Update. 2 January 1.00pm
1 January. Eruption Langila, Sinabung.
The forecast period is extended to 2 January.
Crete is added to Mag 6 risk areas.
Quakes are likely to be very infrequent or absent.
Moderate solar quake driving conditions arrived on time but quakes haven't yet followed...the period seems to be weakly volcanic.
New Zealand remains a Pacific hotspot.
Volcanic data is sparse...the vulcanologists all have hangovers?
More eruptions may come to light later.
Forecast map updated.

Summary.
1 January. Eruptions Sinabung, Langila.
Quakes have been subdued, volcanoes active.
Turrialba, Sabancaya, Kliuchevskoi, Dukono throwing ash.
Data points toward Kermadec Islands and New Zealand as Pacific quake hotspots.

Content © Roary Arbon 2013 - 2016
Website Design by Go Tech.