Pacific Summary. 4 January 2017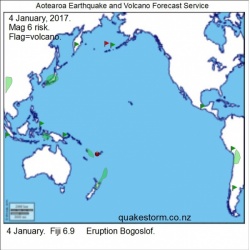 Click to Enlarge

Magnitude 6 risk areas are New Zealand, Kermadec Islands, Vanuatu, Eastern Banda Sea, Northern Myanmar, Eastern Himalaya, Honshu/Osaka, Titicaca, South of Titicaca.
Possibility Mag 7 Pacific. Vanuatu is higher risk.
Possibility Mag 4 Eastern/Northern Europe.
Volcanic activity may increase.
Nevados de Chillan, Sabancaya, Colima, Bogoslof, Kliuchevskoi, Dukono, Sinabung, Langila.
Pacific quake activity faded after last nights big Kermadec rumble but is picking up strongly again.
The forecast period is likely to be extended.

Update. 4 January 3.00pm.
4 January.
220km Southwest of Fiji 6.9 10.52amNZST.
Bulgaria 4.2
North Sea/East of Scarborough,UK 3.9
Vanuatu 5.7
Myanmar 5.1
Hindu Kudh is added to Mag 6 risk areas.
Many forecast locations are active today.
A new wave of strong solar quake driving conditions are due very soon so quakes are likely to increase again.
Vanuatu remains higher Mag 7 risk.
Forecast map updated.

Summary.
Fiji 6.9
Eruption Bogoslof.
Many volcanoes are throwing ash. Sabancaya, Sinabung, Langila, Colima, Turrialba.
The lava lake at Kilauea is rising and falling...it seems only a matter of a few weeks or months before an eruption.
Bogoslof was a very brief strong explosive eruption, the 6th or 7th in last few days.
The higher risk Vanuatu Mag 7 area wasn't too far from the epicenter of the shallow Southwest of Fiji 6.9.
The Fijians all got away from the sea but fortunately no tsunami.

Content © Roary Arbon 2013 - 2016
Website Design by Go Tech.