Aotearoa Summary. 5 January 2017 - 6 January 2017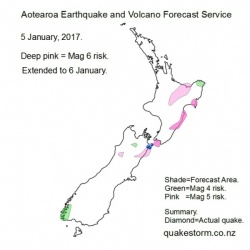 Click to Enlarge

Magnitude 6 risk areas are Northeast of Cape Campbell, Porangahau, Dannevirke, Waipukurau, Cape Kidnappers, Northeast of Wairoa.
Magnitude 5 risk areas are Haupiri River, Culverden, Kaikoura, Seaward Kaikouras, Lower Clarence, Tapuaenuku, Ward, Cape Campbell, Murupara, Rotorua, Urewera, Opotiki.
Magnitude 4 risk areas are Fiordland, East Cape, East of St Arnaud.
The shift away from Kaikoura into the North Island is still holding.
Volcanoes quiet.
The forecast period is likely to be extended.

Update. 5 January 11.00am
Ward 4.0 6.01am
Solar quake driving conditions were moderate overnight and likely to strengthen.

Update. 5 January 11.30pm
The forecast period is extended to 6 January.
Pacific and local quakes went quiet today.
Weaker than expected solar quake driving conditions are still strong enough to be winding up quakes following the big Fiji 6.9, Kermadecs 6.3 double.
Quakes are likely to be infrequent but an isolated big quake possible on 6 January.
The forecast period is likely to be extended one more day.

Update. 6 January 12.00pm
Waima River 5.3 12.17am
The slightly more westerly Upper Waima River location seems to have been felt very strongly in the North Island.
Solar quake driving conditions have picked up since the Waima 5.3 so another big quake is possible.
Forecast map updated.

Summary.
5 January.
Ward 4.0 6.01am
6 January.
Upper Waima River 5.3 12.17am
North of Cape Campbell 4.7 9.45pm
The Waima 5.3 will have sent a few cannonballs down into the spectacular Sawcut Gorge and was widely felt across both islands.
Quakes were a little quieter than expected but met the forecast profile for infrequent big quakes.
The shift away from Kaikoura still seems to be holding.




Content © Roary Arbon 2013 - 2016
Website Design by Go Tech.