Aotearoa Summary. 7 January 2017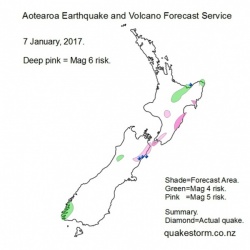 Click to Enlarge

Magnitude 6 risk areas are Castlepoint, Porangahau, Dannevirke, Eketahuna, Waipukurau, Cape Kidnappers, Northeast of Wairoa, North of Cape Campbell, Northeast of Cape Campbell.
Magnitude 5 risk areas are Taihape, Eastern Tararuas, Cape Campbell, Waima River, Ward, Tapuaenuku, Kaikoura, Culverden.
Magnitude 4 risk areas are Haupiri River, Fiordland, Murupara, Rotorua, Opotiki, East Cape.
Castlepoint is higher risk.
Quakes are likely to be infrequent but an isolated big quake is possible.
Volcanoes quiet.

Update. 7 January 2.00pm
Northeast of Opotiki 4.8 5.46am
South Awatere Valley 3.8 5.47am
Solar quake driving conditions are steady today and building up pressure.
An isolated big quake is possible.
Castlepoint remains higher risk Mag 6.
Forecast map updated.

Summary.
Northeast of Opotiki 4.8 5.46am
Northeast of Waiau 4.6 2.36pm
Southwest of Kaikoura 4.1 3.08pm
East of Kaikoura 4.5 9.23pm
Quakes were more frequent than expected.
Solar conditions have been very prolonged, not fading as fast as normal and with very high electron counts.
Global weather has been very disturbed. (See Facebook/Roary Arbon)
Confidence in the North Wairarapa Mag 6 forecast locations is lessening but the Culverden 7.8 has presented new conditions never observed before.





Content © Roary Arbon 2013 - 2016
Website Design by Go Tech.