Pacific Summary. 12 January 2017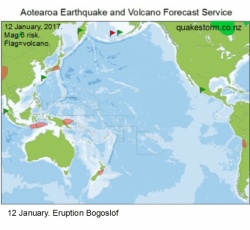 Click to Enlarge

Magnitude 6 risk areas are Eastern Papua New Guinea, Bismarck Sea, Western Banda Sea, Flores Sea, Lombok, Northern Myanmar, Eastern Himalaya, Southern Honshu, New Zealand.
Southern Honshu is higher risk.
Possibility Mag 7 Western Pacific.
Low possibility Mag 8 Western Pacific. Confidence= low.
Quakes may be infrequent.
Volcanic activity may increase.
Bogoslof, Sinabung, Suwanosejima, Colima, Kliuchevskoi, Piton de la Fournaise.
The period is likely to be extended.

Update. 12 January 1.30pm
South of Titicaca is added to Mag 6 risk areas.

Summary.
South of Titicaca 5.8 10.58am
Minor double eruption Bogoslof
Pacific quakes and volcanoes have gone mostly quiet after the deep 10 January Celebes Sea 7.3.
Solar conditions were on a decreasing trend.


Content © Roary Arbon 2013 - 2016
Website Design by Go Tech.