Pacific Summary. 13 January 2017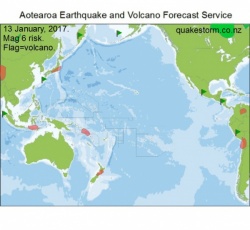 Click to Enlarge

Magnitude 6 risk areas are Makira, Santa Cruz Islands, Western Banda Sea, Flores Sea, Lombok, Southern Honshu, Northern Myanmar, Eastern Himalaya, Northern Colombia, South of Titicaca.
Possibility Mag 7 Western Pacific.
Low possibility Mag 8 Western Pacific.
Volcanic activity may increase.
Bogoslof, Kliuchevskoi, Sinabung, Sabancaya, Turrialba, Colima.
The expected arrival of solar quake driving conditions late 12 January may arrive early 13 January.

Summary.
Pacific quakes were quiet with the non arrival of the forecasted solar windstream.
Western Pacific and Himalayan areas will be places to watch when conditions pick up again...a possible big quake could be just around the corner.
Note.
Summaries are often a day or two late being posted for a variety of reasons.
1. Volcano data slow to arrive.
2. Research time required to make a clear conclusion of events.
3. Lack of sleep.

Content © Roary Arbon 2013 - 2016
Website Design by Go Tech.