Aotearoa Summary. 13 January 2017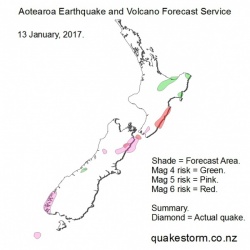 Click to Enlarge

Magnitude 6 risk areas are Seaward Kaikouras, North of Cape Campbell, Northeast of Cape Campbell, Castlepoint, Porangahau, Dannevirke, Waipukurau, Cape Kidnappers.
Magnitude 5 risk areas are Snares Islands, Fiordland, Haupiri River, Otehake River, Culverden, Kaikoura, East of Kaikoura, Lower Clarence, Tapuaenuku, Ward, Cape Campbell, Lake Wairarapa, Eastern Tararuas.
Magnitude 4 risk areas are Mt Cook, Northeast of Wairoa, East Cape, Opotiki, Rotorua.
Lunar modulation may center quakes around low tide.
Low tide Kaikoura/Castlepoint = 12.00pm
The expected arrival of solar quake driving conditions late 12 January may arrive early 13 January.
Volcanoes quiet.

Summary.
Local quakes were quiet.
The expected solar windstream hasn't arrived, a forecasting mistake.
14 January will determine whether the conditions are either very late arriving or not arriving at all.

Content © Roary Arbon 2013 - 2016
Website Design by Go Tech.