Pacific Summary. 20 January 2017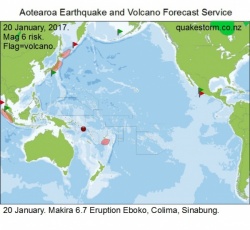 Click to Enlarge

Magnitude 6 risk areas are Fiji, Sumatra, Southern Honshu, South Kuril Islands, Italy.
Volcanic activity may increase.
Sinabung, Hakoneyama, Bogoslof, Colima.
The period may build slowly over several days towards 23 January.

Summary.
Makira 6.7
Eruption Eboko, Sinabung, Colima.
The Makira 6.7 was the first Pacific Mag 6 since 14 January.
Volcanoes still dominate including Eboko in the Northern Kuril Islands.
Solar quake driving conditions are slowly building so infrequent big quakes or eruptions seem possible next days.

Content © Roary Arbon 2013 - 2016
Website Design by Go Tech.