Aotearoa Summary. 23 January 2017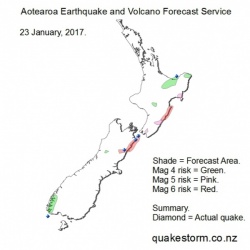 Click to Enlarge

Magnitude 6 risk areas are Culverden, Kaikoura, Seaward Kaikouras, Lower Clarence, Ward, Cape Campbell, North of Cape Campbell, Porangahau, Dannevirke, Waipukurau, Cape Kidnappers.
Magnitude 5 risk areas are Lake Wairarapa, Eketahuna, Castlepoint, Wairoa.
Magnitude 4 risk areas are Fiordland, Haupiri River, East Cape, Opotiki, Urewera, Rotorua, Taihape.
Quakes are likely to be infrequent. A big isolated quake is possible.
The 22 January Bougainville 7.9 is good indication big quakes are in the Southwest Pacific. Be careful.
Volcanoes quiet.
Solar conditions have driven some extreme world weather last few days.
More info at Facebook/Roary Arbon.

Summary.
South of Fiordland 4.0 4.52am
Haupiri River 3.4, 3.4 5.19am
Southwest of Kaikoura 4.0 5.51am
Northeast of Opotiki 5.0 10.00am
Cape Campbell 4.0 11.30am
Northeast of Cape Campbell 4.6 7.16pm
The wider 20-23 forecast for a buildup to 23 January was finally justiified. Plenty of action in many forecast locations including the widely felt Opotiki 5.0
World weather during the 3 day period was also extreme. New Zealand got a blasting, drenching and big summer snow.
Solar magnetic forces power up tectonic and atmospheric conditions.
Conditions look to be easing off slowly over next four days.





Content © Roary Arbon 2013 - 2016
Website Design by Go Tech.