Pacific Summary. 24 January 2017 - 26 January 2017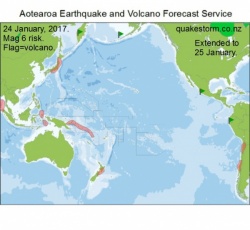 Click to Enlarge

Magnitude 6 risk areas are New Zealand, Vanuatu, Santa Cruz Islands, Makira, Bougainville, New Britain, Eastern Banda Sea, Celebes Sea, Northern Sumatra, Honshu, Central Chile/Valparaiso.
Chile is higher risk.
Volcanic activity may increase.
Bogoslof, Kliuchevskoi, Colima, Reventador.

Update. 24 January 10.30am
South of Titcaca is added to Mag 6 risk areas.
Quake conditions are fading so quakes are likely to be infrequent.

Update. 24 January 1.00pm
The forecast period is extended to 25 January.
Pacific quakes were under Mag 6 today.
No major eruptions but many volcanoes are hot or pluming.
Solar quake driving conditions are weakening ahead of a new period beginning late 27 January.
Quakes are likely to be infrequent.
Chile is higher risk.

Summary.
Pacific quakes and volcanoes were quiet 24-25 January following the 22 January Bougainville 7.9
Volcanoes gathered momentum on 26 January. Bogoslof, Sinabung, Fuego, Colima, Erta Ale, Etna erupted.
Volcanic activity typically follows quake periods.


Content © Roary Arbon 2013 - 2016
Website Design by Go Tech.