Pacific Summary. 27 January 2017 - 28 January 2017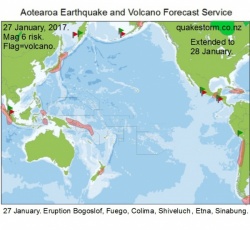 Click to Enlarge

Magnitude 6 risk areas are New Zealand, Vanuatu, Santa Cruz Islands, Makira, Bougainville, New Britain, Bismarck Sea, Eastern Banda Sea, Celebes Sea, Sumatra, Honshu, South Kuril Islands, Southern Mexico, Northern Caribbean Sea, South of Titicaca, North of Valparaiso, South Sandwich Islands, Iran, Hindu Kush, Crete, Southern Greece.
Location confidence = low. Locations are likely to be updated.
Volcanic activity may increase.
Bogoslof, Sinabung, Colima, Fuego, Kliuchevskoi, Ubinas.
More volcano info at Facebook/Roary Arbon

Update. 27 January 1.00pm
Southern Alaska is added to Mag 6 risk areas.
Solar quake driving conditions have arrived.
The period is likely to build toward 31 January when conditions may become even more active.

Update. 27 January 11.30pm
27 January.
Eruption Bogoslof, Colima, Fuego, Shiveluch.
The forecast period is extended to 28 January.
Etna is added to volcanoes.
Pacific quakes were below Mag 6 but volcanoes are very hot.
The volcanic period is trashing our theory regarding the switch between quakes and volcanoes....it should be quakes at the moment.
Pacific quake conditions may stay subdued on 28 January with a pickup expected 29 January.
Volcanoes may stay very active.

Summary.
Pacific quakes were below Mag 6 during the period, justifying low location confidence due to low signal.
Quakes were quiet at the expense of volcanoes.
Major volcanic action is underway at present.
Ethiopian volcano Erta Ale, Sicilian volcano Etna both erupted in addition to a swag of Pacific volcanoes.
More volcanic action seems likely.





Content © Roary Arbon 2013 - 2016
Website Design by Go Tech.