Pacific Forecast Updated. 31 January 2017 - 1 February 2017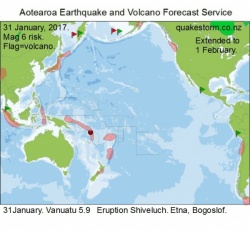 Click to Enlarge

Magnitude 6 risk areas are New Zealand, Kermadec Islands, Fiji, Tonga, Vanuatu, Solomon Islands, Bismarck Sea, Eastern Banda Sea, South of Philippines, Western Java, Sumatra, Northern Myanmar, Honshu, Southern Kuril Islands, Southern Alaska, South of Titicaca, South Sandwich Islands, Crete, Southern Greece.
Volcanic activity may increase.
Etna, Piton de la Fournaise, Sinabung, Shiveluch, Colima, Sabancaya.
The period is likely to be extended.

Update. 31 January 11.10pm
Vanuatu 5.9
Eruption Etna, Bogoslof, Shiveluch.
The forecast period is extended to 1 February.
Vancouver Island is added to Mag 6 risk areas.
Good location success today.
Pacific quakes were generally quiet but the biggest, Espiritu Santo 5.9 was right in the zone.
Bogoslof has "predictably" erupted again.
Alaska is looking very active. The Denali 5.4 was a good location success today in a seldom forecasted area. More Alaska quakes seem possible.
Etna is firing up for the first time in several months, activity seems likely to increase next few days as stronger solar conditions set in.


Content © Roary Arbon 2013 - 2016
Website Design by Go Tech.